Course6-Sing a song
Learning goals:
In this lesson, you can use the micro:bit robot to play music, the robot sings a happy birthday song, and the dot matrix displays a buzzer pattern.
Code:
from microbit import *
import music
boat = Image("00090:90990:99990:90990:00090")
display.show(boat)
music.play(music.BIRTHDAY) 
Below is a complete list of melody:
• music.DADADADUM
• music.ENTERTAINER 
• music.PRELUDE
• music.ODE
• music.NYAN
• music.RINGTONE
• music.FUNK
• music.BLUES
• music.BIRTHDAY
• music.WEDDING
• music.FUNERAL
• music.PUNCHLINE
• music.PYTHON
• music.BADDY
• music.CHASE
• music.BA_DING
• music.WAWAWAWAA
• music.JUMP_UP
• music.JUMP_DOWN
• music.POWER_UP
• music.POWER_DOWN  
Programming and downloading:
1.You should open the Mu software, and enter the code in the edit window, , as shown in Figure 6-1.
Note! All English and symbols should be entered in English, and the last line must be a space.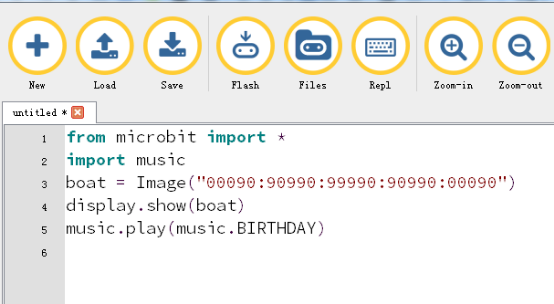 Figure 6-1
2.As shown in Figure 6-2, you need to click the Check button to check if our code has an error. If a line appears with a cursor or an underscore, the program indicating this line is wrong.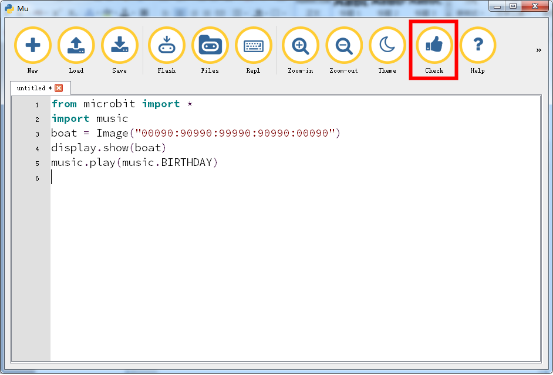 Figure 6-2
3.You need to connect the micro data cable to micro:bit and the computer, then click the Flash button to download the program to micro:bit as shown in Figure 6-3.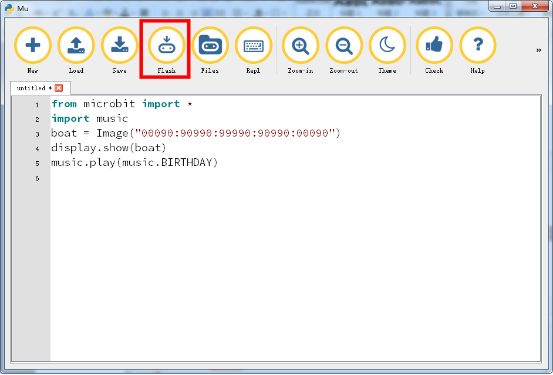 Figure 6-3
4.After downloading the program, you can hear Micro:bit playing Happy Birthday and a buzzer on the micro:bit dot matrix. as shown in Figure 6-4.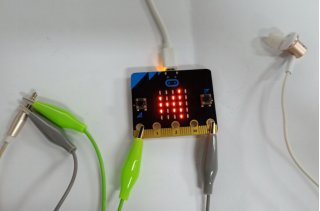 Figure 6-4
The code of the experiment: 6.Sing a song.rar
Last Microbit Tutorial >> Microbit Python Tutorials 5: See who is pressing fast
Next Microbit Tutorial >> Microbit Python Tutorials 7: Play the custom music Painters