Yahboom_4WD_image = Raspbian image + Yahboom_4WD_code + camera drive process.
Case 1--- If you use Yahboom_Tank_iamge
If you are using the image we provide. Because the Bluetooth process is already enabled in our image, it will consume the resources of the Raspberry Pi CPU. You need to turn off the Bluetooth process before you run other programs manually. 
If you need to run each program separately, you need to perform an operation to close the APP process that has been started in our mirror, otherwise it will not work properly.
1. Switch the root user.
You need to enter the command: su
Then enter the password yahboom
 (the password here is hidden and can't be seen, please be careful not to enter the error!)
At this point we successfully entered the root privileges, as shown below: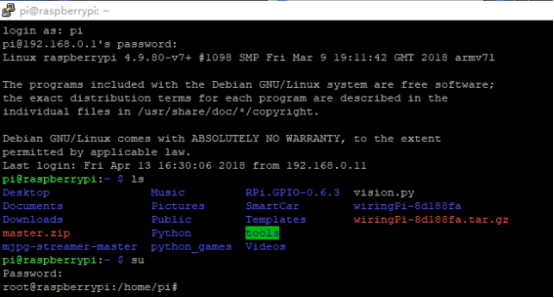 2. You need to enter the command: top 
This command is to view the process ID of all processes in the Raspberry Pi system.
As shown in the figure below, we can see that the 519 process number is a Bluetooth remote process, you need to remember this number.
(Note! Different Raspberry Pi process numbers are different. Please refer to the process shown in your own system)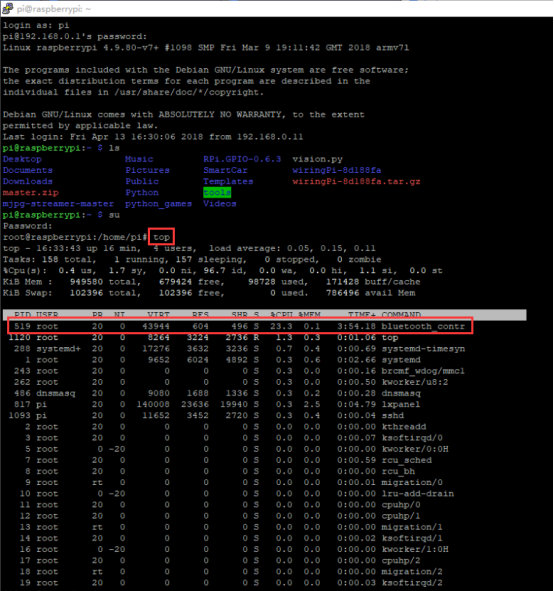 3. After obtaining the Bluetooth process number, press ctrl+z on the keyboard to exit this interface. 
4. We must kill the Bluetooth process in order to avoid conflicts between the TCP process and the Bluetooth process.
Enter the command: kill -9 519
As shown below:
4. Finally, you run each code normally.
Case 2-- If you use Raspbian image
You need to remote transfer code file into Raspbian image and run them.
Please refer to [2.Development environment].