---
Introduction
The popularity of Maker Education has resulted in a variety of Maker products, some of which are combinations of electronic components and modules, and some are novel and innovative products.
The 4WD multifunctional smart car newly upgraded by the Keyi Group is one of the most popular categories: programming robots.
It is not only beautiful in appearance, but also powerful in function.Except for the commonly used functions of tracking, obstacle avoidance, remote control, etc.,a facial expression is added too, you can DIY your own cute expression, amazing! If you think it's not enough, you can add other sensors to complete your exploration journey.
Note: Due to the shipping reason,We'll ship the car in pieces, not an assembled set.and doesn't contain batteries.(we provided two type battery holder 18650 and AA)
Parameters
Motor control is driven by L298P expansion board, built-in power control switch.
Ultrasonic module is used to detect whether there is front obstacles and the distance between the obstacle and the 4WD BT Robot Car. The 4WD BT Robot Car obstacle avoidance system is formed.
Motor's Parameters: 5V 200 rpm/ min
Provide graphical programming test code and support Mixly.
Bluetooth wireless module can match with Bluetooth on mobile phone to remotely control the 4WD BT Robot Car, and supports Android and IOS system.
Can access to the external voltage 7~12V, and can carry various sensor modules, achieve all kinds of functions according to your imagination.
IR receiver module matches with IR remote control to control 4WD BT Robot Car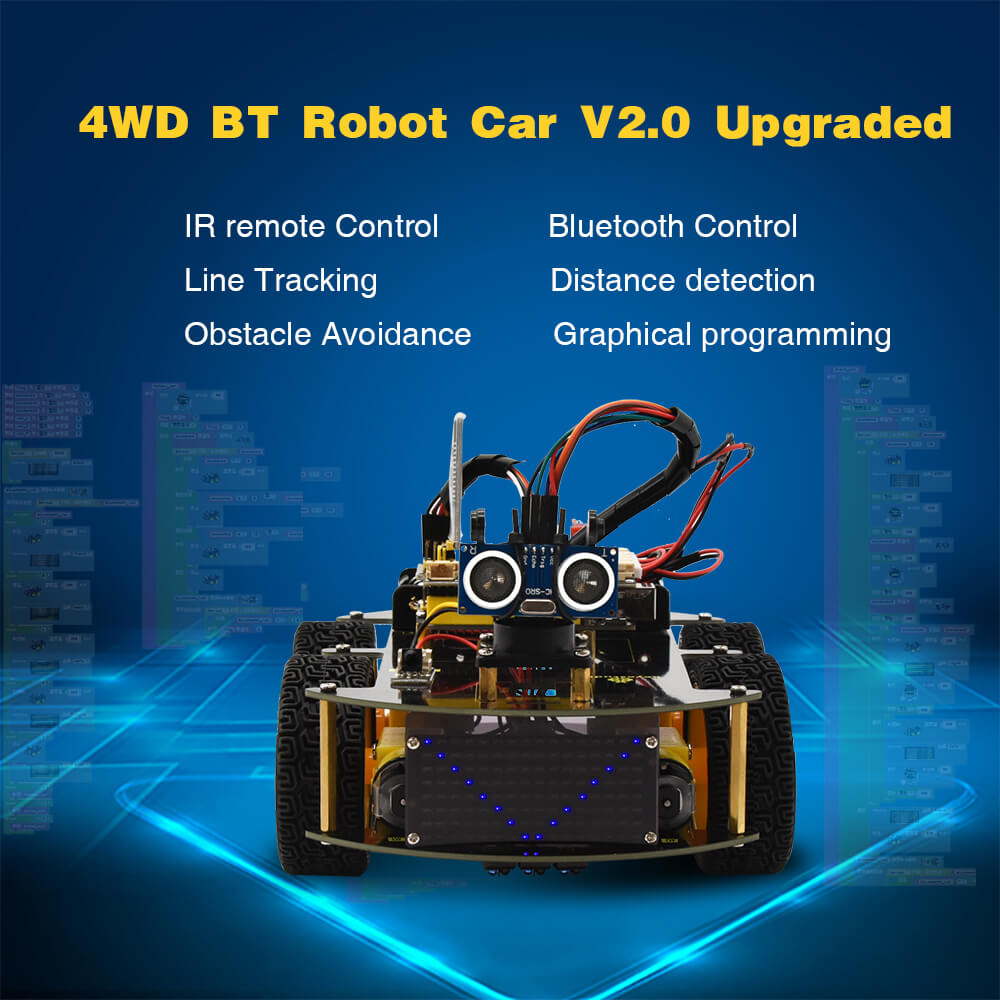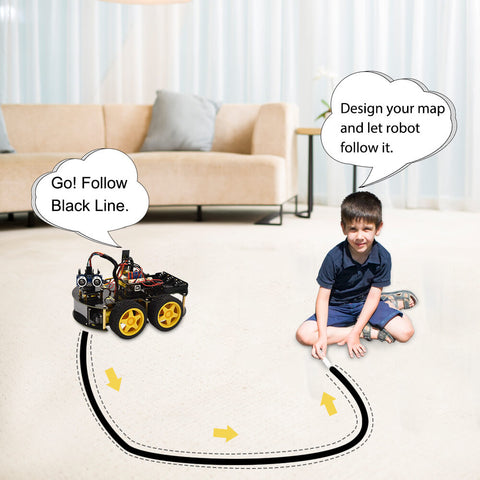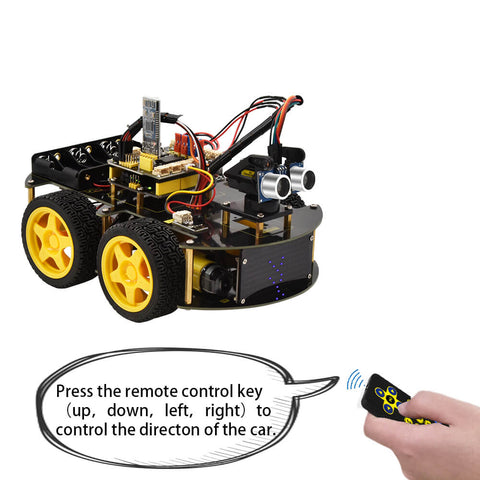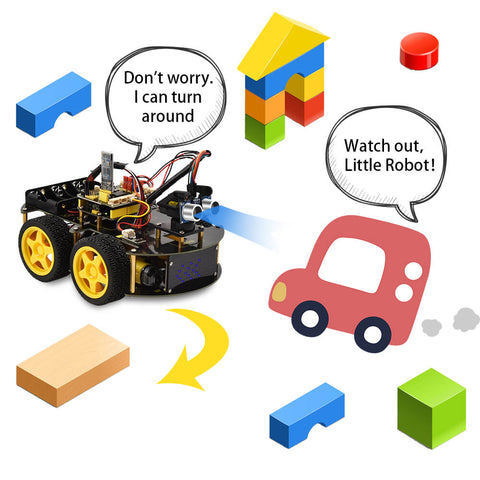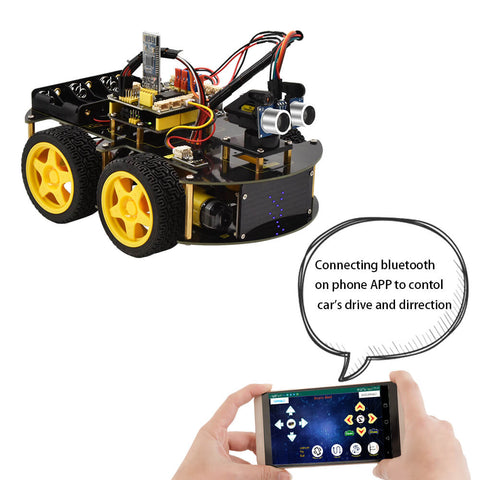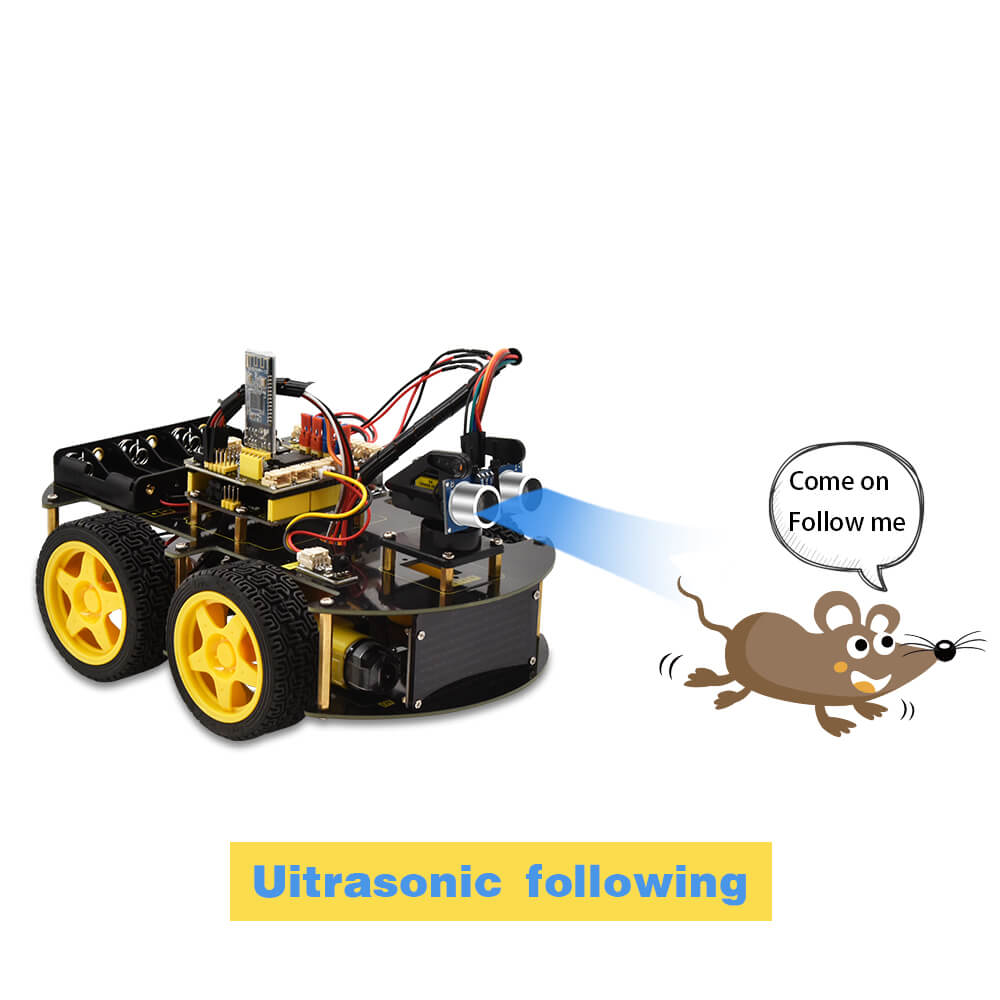 Shipping List
Keyestudio Arduino REV4 Board x1
Keyestudio quick connectors motor driver shield V2 x1
Keyestudio HM-10 Bluetooth-4.0 V3 compatible HC-06 pin x1
HC-SR04 ultrasonic sensor x1
Keyestudio quick connectors line tracking sensor x1
Keyestudio 8X16 LED light board with DuPont line x1
Keyestudio 9G 23*12.2*29mm black servo 180° with white mounts x1
Keyestudio JMFP-4 17 button 86*40*6.5MM yellow eco-friendly(without battery) x1
AM/BM clear blue OD:5.0 L=50cm eco-friendly x1
18650 2-cell 15CM Dew line for DIY car+double headJST-PH2.0MM-2P wire(bus length115MM) x1
6-cell AA with 15CM dew line + double head JST-PH2.0MM-2P cable (bus length 200MM) x1
Pan tilt mount(black) kit x1
Double head JST-PH2.0MM-5P 24AWG blue green yellow red black line 15CM x1
Double head JST-PH2.0MM-3P 24AWG yellow red black line 8CM
JST-PH2.0mm-4P to 2.54 DuPont female single 26AWG black red blue green line x1
The front acrylic board of 4WD car LED screen x1
Keyestudio 4WD smart car V2.0 Top PCB board x1
Keyestudio 4WD smart car V2.0 bottom PCB x1
Fixed parts 23*15*5MM 9MM pitch aluminum x4
Wheel 68*26mm Shaft inner diameter: 5.3*3.6mm Wheel hub: yellow Tire: black x4
M3*10MM dual-pass copper pillars x10
M3*40MM dual-pass copper pillar x4
M3*30MM round-head cross screw x8
M3*6MM round-head screw x40
M3 Nickel Plated Nut x16
M2X8MM round-head screw x6
M3*8MM round-head screw x4
M2 Nickel Plated Nut x6
5V 200/rpm gear motor (with welding wire) x4
3*40MM screwdriver x1
black Nylon cable 3*100MM x10
Winding tube diameter 8MM black x1
Connection