---
Introduction
Include installation method , wiring diagram , codes , libraries and lessons . Teach you how to assembly the smart robot car kit and use control board connect with Ultrasonic Sensor, Bluetooth module, line tracking module for you to play.
Note:1.This robot kit uses 18650 batteries(2 pieces), but we can't ship any batteries by air, so kindly remind customers to prepare before receiving the kit

2. The Charger we default to send the US plug(Russian customer for EU ), if you want to change to EU or UK plug, please leave a message to us on the order.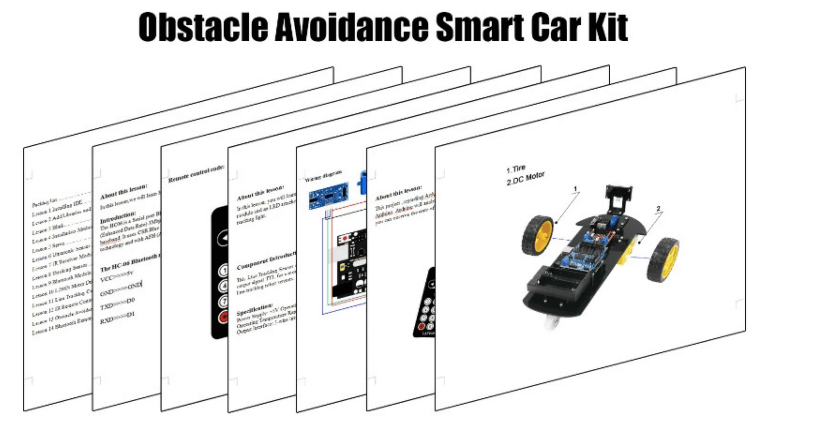 Shipping List

Arduino R3 Controller Board x1
USB cable x1
V5.0 extension board x1
L298N motor driver board x1
Ultrasonic Sensor x1
Ultrasonic holder x1
Servo motor x1
Servo motor fixed plate x1
Bluetooth module x1
Line tracking module x3
Motor x4
Wheel x4 
Remote x1
IR Receiver Module x1
Cell box x1
18650 battery charger x1
Black tape x1
Acrylic plates x2
5bag Screws and nuts for every part x1
40pin F-F dupont wire x1
Screwdriver x1
Bunding belt x4
Plastic box x1
CD with tutorial x1